MuseCon is a weekend-long convention for artists, musicians, inventors, gadgeteers, makers, tinkerers, and creative people of all ages.
To get started, you will need to register for the convention.
Please see the Registration page
for details.
Here is a
printable version
of the grid.
Here is an
electronic version
of the program book.
Please take a few moments to let us know how things went! You can complete a brief feedback form
here
. Note: questions are geared for one session at a time, but you can fill out as many forms as needed to cover the sessions which you attended and would like to talk to us about. Feedback on the convention as a whole (or any other non-class specific issues) should be sent to: feedback@musecon.org
Thank you for joining us, and taking the time to help us improve!
The expansion work on the Elgin-OHare expressway is making a mess of traffic. It looks like there will be no access to Park Boulevard from Thorndale the weekend of MuseCon. This is normally the main entrance from the south to the hotel/business complex that the Westin is in.
If you are coming from the North on I-290:
Take the exit for Biesterfield Rd., turn right (west), and proceed to Rohlwing Rd. (IL 53), which is the first light, and turn left (south). From there continue south to Devon Ave. Turn left (east) on Devon, cross over the expressway, then turn right (south) on Park Blvd., and follow park Blvd. to the hotel.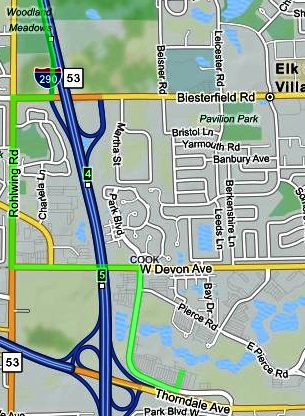 Coming form the south on I-290:
Take the Thorndale exit, turn right (east), and proceed to Arlington Heights Rd., which is the next light east of Park Blvd. on Thorndale. Turn left (north) on Arlington Heights Rd. Take that to Pierce Rd., which is a 'T' intersection where you can't go any further north. Turn left (west) on Pierce and take that to Park Blvd. Turn left (south) on Park, follow that to the hotel.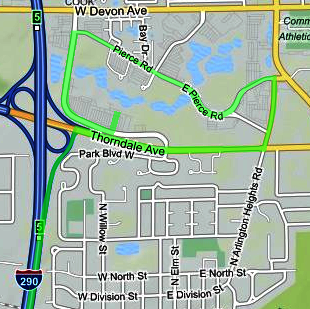 MuseCon offers a variety of demonstrations, workshops, panels, and other activities for the creatively-minded. At past MuseCons, our attendees have been able to see, learn, and try:
| | | | |
| --- | --- | --- | --- |
| | Basic electronic tinkering (Blinkies!) | | Working with electroluminescent (EL) wire |
| | Knitting and crocheting | | Drama and improvisation |
| | Leatherworking | | Miniature painting |
| | Chain maille | | Stained glass |
| | Music, music, and more music | | Various types of dance |
| | Using software | | Vocal workshops |
| | Paperwork | | Costuming and sewing |
| | Beading and jewelry | | Woodworking |
Check out our Programming page
to see what's going on at this year's con and sign up for workshops.
In addition to learning, seeing, and trying a variety of arts, crafts, and sciences, MuseCon attendees have the opportunity to:
Spend an entire weekend mingling with creative people

Attend as many of the free classes and workshops you can fit into your schedule

Register for exclusive limited enrollment sessions

(subject to availability)**

Shop vendors specializing in tools, supplies, and handcrafted goods

Enjoy "MuseCon Munchies" -- free food and beverages available in our hospitality suite all weekend long
Don't want to miss any of the fun or deal with traffic every day? Join us and stay at the Westin Chicago Northwest, in Itasca, Illinois.
Reserve your hotel room early
, and don't forget to request the special MuseCon room rate.
See the Hotel page
for more information.
Second star to the right, and straight on 'til morning! Don't forget our Necro-Muse post-con music party on Sunday evening – join us in the Barrington room, starting at 6 pm, as the creativity carries on for one last circle
Br. Guy Consolmagno SJ was born in 1952 in Detroit, Michigan. He obtained his Bachelor of Science in 1974 and Master of Science in 1975 in Earth and Planetary Sciences from the Massachusetts Institute of Technology, and his PhD in Planetary Science from the University of Arizona in 1978.
He has coauthored five astronomy books:
Turn Left at Orion
(with Dan M. Davis; Cambridge University Press, 1989);
Worlds Apart
(with Martha W. Schaefer; Prentice Hall, 1993);
The Way to the Dwelling of Light
(U of Notre Dame Press, 1998);
Brother Astronomer
(McGraw Hill, 2000); and
God's Mechanics
(Jossey-Bass, 2007). He also edited
The Heavens Proclaim
(Vatican Observatory Publications, 2009).
Br. Consolmagno is President of the Vatican Observatory Foundation. His research explores the connections between meteorites and asteroids, and the origin and evolution of small bodies in the solar system. He recently won the Carl Sagan Medal.
Loren Damewood
Website
Sharon Winsauer
Website
Sharon Knight and Winter
Website
Ginger Doss & Lynda Millard
Website