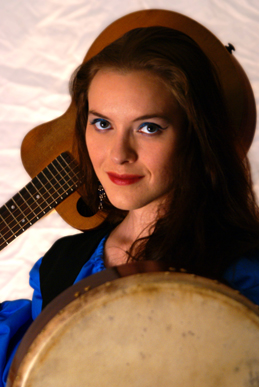 Ask one of her fans to describe SJ Tucker and you'll hear words like amazing, magical and transforming. Such is the power of this self-described Skinny White Chick with a voice that defies her petite frame.

Since 2004, SJ or sooj as she's known to her fans, has crisscrossed the country many times: a modern day bard bringing her music to an ever-growing legion of fans. In that time, she's also released seven albums (with the eighth in the works), three of which are companion albums to novels written by Catherynne M. Valente (Solace and Sorrow, For the Girl in the Garden and Quartered: Songs of Palimpsest)

SJ's music defies categorization. From folk to punk rock, opera to pagan - every style except boring. SJ's exquisite voice, deft and engaging lyrics and musical skill combine to give songs that are pure magic.

Not content to delight fans with her solo work, SJ performs with an ever-growing list of fellow musicians and groups including Traveling Fates and Tricky Pixie. She often shares the stage with Betsy Tinney (who will also be joining us at MuseCon!!! -- http://www.stealthcello.com/), whose haunting and beautiful cello can be heard on Sirens, Quartered: Songs of Palimpsest, and Were-owl.